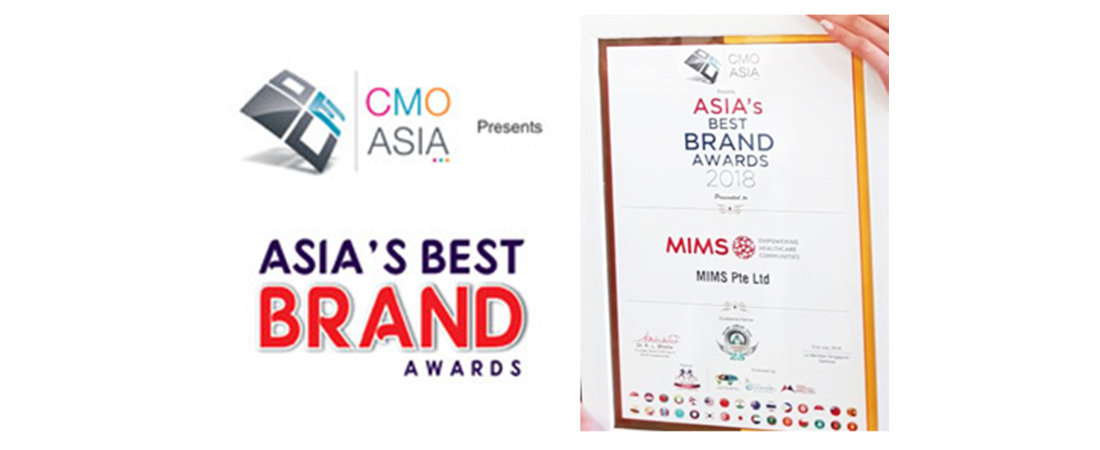 MIMS is proud to be awarded the prestigious title of Asia's Best Brand by the 9th Edition of CMO Asia Awards on 31 July 2018 held in Le Meridien, Singapore, Sentosa.
The awards are part of an independent brand recognition exercise initiative by CMO Asia's Academic Council and Awards Committee to recognise brands who have achieved extraordinary success from innovative and effective marketing practices in Singapore.
The award is distinguished by not only on the company's financial valuation alone but by consumer preferences with the aim to foster marketing awareness in the professional community and inspire marketing successes.
"In our 50 years of heritage, MIMS has consistently focused on our core mission – which is to connect healthcare professionals with the information and resources they need to help them make better informed clinical decisions. To date, MIMS has over 2 million medical professionals on our multichannel medical media and marketing platform, and this award truly acknowledges our vision to empower healthcare professionals to improve patient outcomes," commented Sherlynn Tan, Chief Marketing Officer of MIMS Pte Ltd.
About MIMS:
MIMS is Asia's leading healthcare media brand in medical information, marketing & communication services, connecting healthcare communities over Asia for more than 50 years.
We are your ideal go-to-marketing partner for your brand to connect the right target audience with our extensive network of over 2 million healthcare professionals (HCP).
With our multi-channel marketing solutions, our goal is to partner with you to attract the right customers for your products and services to achieve your business objectives.