HEADQUARTERED IN SINGAPORE
Click on locations to find out more
We have a strong presence supported by over
800
employees from
32
global offices in
17
countries and regions.
Ireland
UAE
India
China
Japan
Korea
Taiwan
Hong Kong
Myanmar
Thailand
Vietnam
Philippines
Malaysia
Singapore
Indonesia
Australia
New Zealand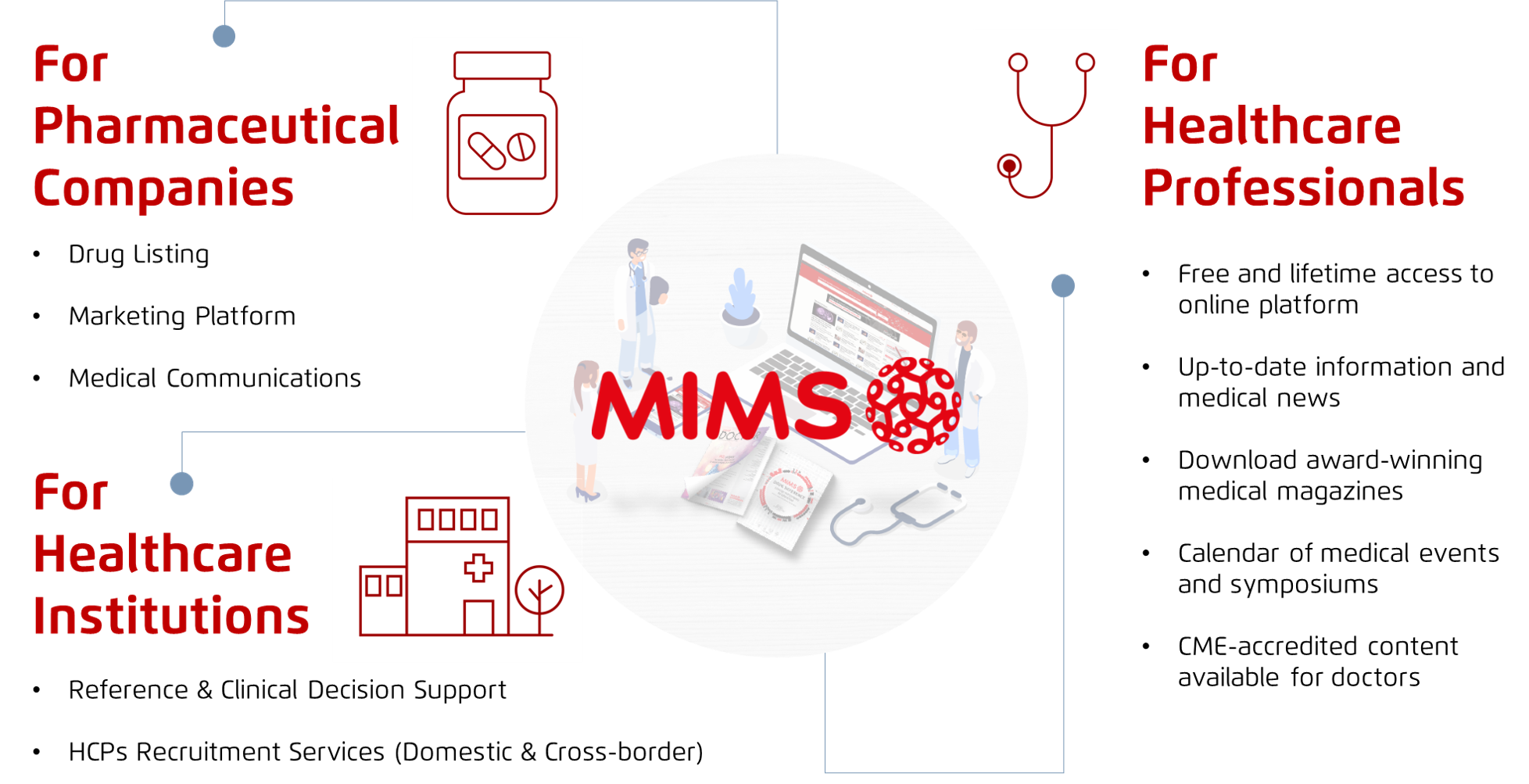 Regional Management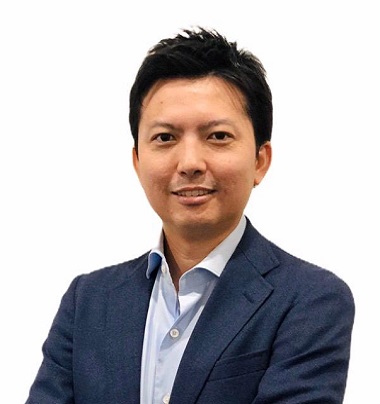 Masaki Takahata
View Profile
Masaki Takahata
Chief Executive Officer
Masaki Takahata is the Chief Executive Officer of MIMS Pte Ltd and leads a management team that works to deliver the company's mission to empower healthcare communities to improve patient outcomes. Under his leadership, MIMS Group is building a progressive path to develop innovative digital solutions for healthcare publishing and knowledge sharing among industry professionals across Asia.
Masaki began his career at KPMG as an auditor responsible for multiple MNC clients in Japan. In the following years, as a management consultant, Masaki's high order of professionalism, industry insight, local knowledge and hands-on approach accomplished multiple successful turnarounds for corporations in his portfolio.
In 2013, Masaki expanded his role and responsibilities at SMS Co. Ltd. He led several teams involved in corporate planning, investor relations, and mergers & acquisitions. He later successfully spearheaded the acquisition of MIMS and moved to Singapore to join the MIMS Group. He has been responsible for MIMS corporate functions which include corporate planning, finance, legal, HR, and IT, and became CEO in 2021.
Masaki is Certified Public Accountant in Japan and holds a Bachelor in economics from the University of Tokyo.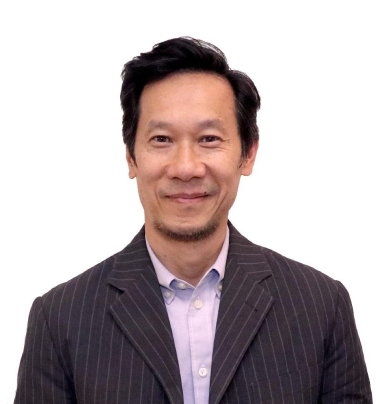 Victor Bong Wright
President, Medical Marketing
Executive Vice President, Medical Communications
View Profile
Victor Bong Wright
President, Medical Marketing
Executive Vice President, Medical Communications
Victor leads the medical communications business unit as regional Executive Vice President. Under his leadership the MIMS medical communications business unit is becoming a globally recognised agency – forging strategic partnerships and building its reputation for excellence.
Victor places a premium on leadership, inspiration and collaboration and has created a culture where the MIMS medical communications team can innovate and solve problems in a holistic way.
Prior to joining MIMS, Victor led teams at global pharmaceutical companies Pfizer and Merck, and at international healthcare agencies at OMNICOM, to launch blockbuster brands Lipitor and Vytorin, among others.
Victor has an MBA in marketing at Indiana University and B.A. in political science at Duke University.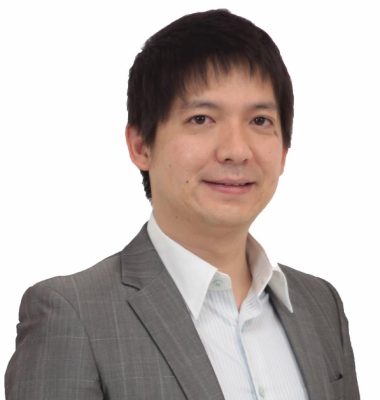 Tatsuya Koike
President, Recruiting Services
View Profile
Tatsuya Koike
President, Recruiting Services
Tatsuya Koike is the President of Recruiting Services in MIMS. He leads regional teams in providing recruitment services and placement of healthcare professionals in clinics and hospitals in Asia Pacific.
Tatsuya began his career at MIMS's parent company, Senior Marketing System (SMS) Co. Ltd. in Japan in 2007 as a Sales Representative of Media Division. He quickly progressed to become the Marketing Manager of Media Planning Division in 2008 and then the Product Manager of Care Vision. He became the Business Development Manager of Overseas Division in 2013 and was the Director of SMS Asia Pte. Ltd. in Singapore for 2 years before joining MIMS Group in 2017.
Tatsuya has more than five years of experience in Business Development and Management of Medical and IT sectors. He holds a Bachelor's Degree in Chemistry at Saitama University, Japan.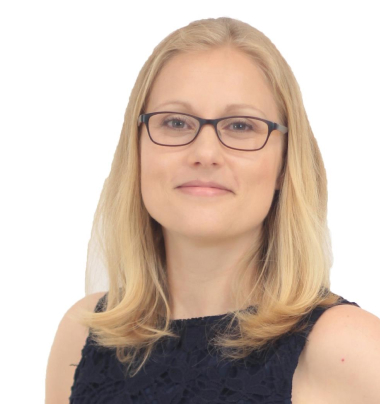 Cassie Humphreys
Executive Vice President, Regional MPF Business Development & Product
Executive Vice President, MPF & MC Business Development, Singapore and Malaysia
View Profile
Cassie Humphreys
Executive Vice President, Regional MPF Business Development & Product
Executive Vice President, MPF & MC Business Development, Singapore and Malaysia
Cassie Humphreys is the Executive Vice President, Regional MPF Business Development & Product, and also the  Executive Vice President, MPF & MC Business Development for Singapore and Malaysia, tailoring innovative, behavior-changing, multichannel solutions to the needs of regional and global healthcare clients.
Following a degree in Medicinal and Pharmaceutical Chemistry, Cassie embarked on a marketing career in the pharmaceutical industry. With a reputation for commercial success, Cassie held positions ranging from Brand Manager to Marketing Director within top-tier pharmaceutical companies and ground-breaking biotech organisations.
Originally from the UK, in 2011 Cassie relocated to Singapore and with it came a move into medical communications, and ultimately, MIMS Group.
Under Cassie's leadership, the team have built a reputation for excellence – forging strategic partnerships with clients in healthcare to deliver world class services across Asia and beyond.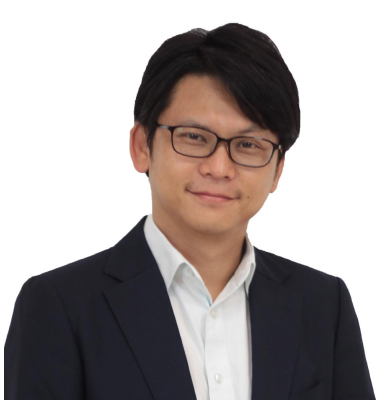 Yuki Ishii
Executive Vice President, Regional MPF Platform and Operations
View Profile
Yuki Ishii
Executive Vice President, Regional MPF Platform and Operations
Yuki Ishii is the Executive Vice President, Regional MPF Platform and Operations. He is responsible for the MIMS.com Platform and cross-functional IT teams. He is currently leading the digital transformation of MIMS Group.
Yuki brings 16 years of experience in developing and managing a variety of digital platform businesses across different domains. In 2002 he started his career at Recruit Co. Ltd. as a strategic planner for digital platform businesses in the education, travel, restaurant, and beauty-salon domains. In 2014 he moved to SMS Co. Ltd to enter the healthcare domain, building and directing new services for pharmacies and home-care nurses. In 2016 he joined MIMS Group to oversee the CIS business, until he assumed his current role in 2018.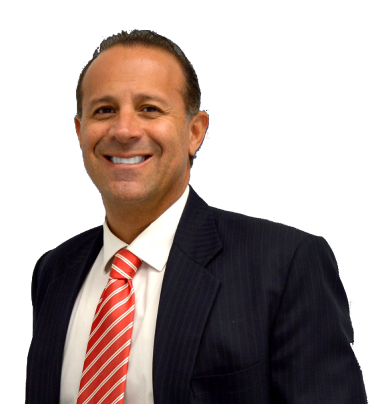 Robert Best
Executive Vice President, Clinical Decision Solutions Pacific
View Profile
Robert Best
Executive Vice President, Clinical Decision Solutions Pacific
Leading the Australasian region, Robert has several roles – CEO & Executive Director for MIMS Australia and MIMS New Zealand (ANZ), CEO and Executive Director of eHealthWise Services and currently a Board Member of the MSIA (Medical Software Industry Association) in Australia.
His corporate responsibility is to drive the strategy, P&L, growth and operations across these 3 Asia-Pacific businesses, working closely with our Group CEO and Executive Team (Singapore HQ).
Robert led the acquisition of eHealthwise Services in January 2014 to SMS Co Limited, and assisted our Tokyo HQ team with the October 2015 MIMS Group acquisition.
Robert continues to focus on M&A opportunities across the region and has worked with our Shareholder owners, SMS Co, since 2013.
Robert is University Degree qualified – Bachelor of Commerce (Majors in; International Business, Technology delivery, Strategy/Marketing/Advertising/Brand Building) – he provides MIMS with 25 years of diverse skills; with significant APAC experience, Board Leadership, Corporate Governance and IP Commercialization across Public and Private Companies.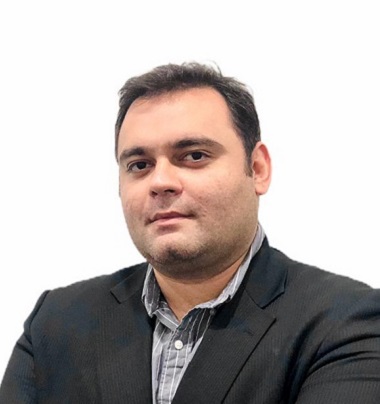 Sohil Goswami
Executive Vice President,
Drug Listing & Regional Product, IT and Operations, Clinical Decision Solutions
Director, CEO Office
View Profile
Sohil Goswami
Executive Vice President,
Drug Listing & Regional Product, IT and Operations, Clinical Decision Solutions
Director, CEO Office
Sohil is the Executive Vice President of the Listing Business Unit focusing on transforming a legacy business of MIMS, where his initiatives are enabling MIMS Listing offerings to unlock their true potential in key countries within South East Asia. He is also the Director of CEO Office, responsible for designing and executing company-wide strategic initiatives in collaboration with the MIMS Group CEO.
Sohil brings over 12 years of experience in consulting and working with leading global firms on business process restructuring and corporate strategy. Starting his career with NEC Corporation in Japan, Sohil led IT Project Management and Business Expansion around Retail Systems and ERP Solutions geared for South-East Asian markets. He then moved into consulting with Deloitte Tohmatsu Consulting Japan working with many Japanese and Global giants. His expertise include value chain transformation, business turnaround, and digital initiatives around planning, monitoring, automation, and scenario simulation. He joined MIMS in his current role in 2019.
Sohil is proficient in business Japanese, holds an MBA from the National University of Singapore in Corporate Strategy and is a certified Project Management Professional (PMI-PMP).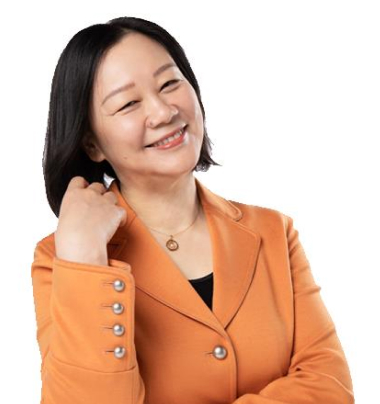 Yang Xuan
Managing Director, Medical Marketing, China
View Profile
Yang Xuan
Managing Director, Medical Marketing, China
Yang Xuan has over 20 years of working experience in healthcare communications.
CME and KOL management were the major responsibilities for her first 5 years working under McCann healthcare in Tokyo, Shanghai, New Jersey and Beijing.
She became the Managing Director one year after she joined Euro RSCG Life China (Havas Life). Her responsibilities were not only business development, but she was also responsible for business operations. Her 8 years of extensive working records had left Euro RSCG Life a best business winning records in both Rx and OTC brands, rich long-term serving client list, many domestic and international creative awards, and efficient campaign awards winner as a perfect ending.
MIMS had motivated Yang Xuan to return to major healthcare communication agency from her own firm, she has built a strong and trusted team here, long-term dedication, in-depth understanding to this market, most up-to-date communication concept and multi-channel tool design, smart phone based platform delivery in particularly has enabled MIMS to become the leading agency among chaos.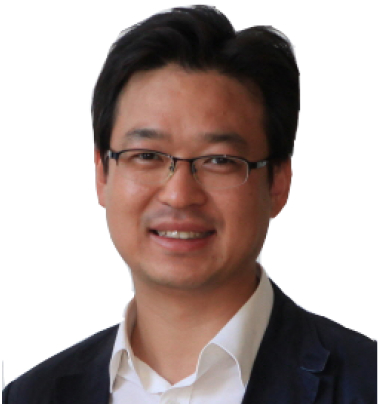 Chang Ho Lee
Managing Director, Clinical Decision Solutions Korea
View Profile
Chang Ho Lee
Managing Director, Clinical Decision Solutions Korea
Chang Ho is responsible for healthcare business which provides important drug information to medical institutes, medical IT providers, academic institutes and governmental agencies in Korea.
He has 16 years of experience in the healthcare industry and joined MIMS Group in 2008. He leads the digital healthcare business team, consisting of sophisticated and well-experienced staffs who have a broad knowledge of the Korean healthcare market.
He began his career in the pharmaceutical industry as a programmer and moved on to the role of a business manager until 2016. Since then, he has been responsible for various aspects of MIMS Korea's healthcare business as a vice president for the Korea branch office.
Expansion to Taiwan, China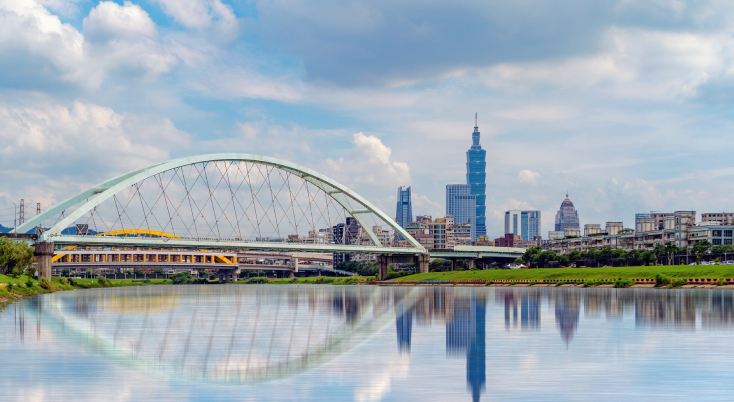 The latest expansion meets growing demand in Taiwan for medical communications services in the healthcare industry.
The new Taiwan branch has a professional team of members from both Taiwan and Hong Kong delivering medical communications solutions catering to the Taiwan market, with a regional perspective and through a multidisciplinary and integrated approach.
Launch of HCPs Recruitment Services
With the HCPs Recruitment Services, we provide career opportunities to HCPs by connecting them with healthcare institutions. Our career services professionals can tailor match the institutions' needs to a diverse group of professionals engaged on our platform.
Launch of MIMS Mobile App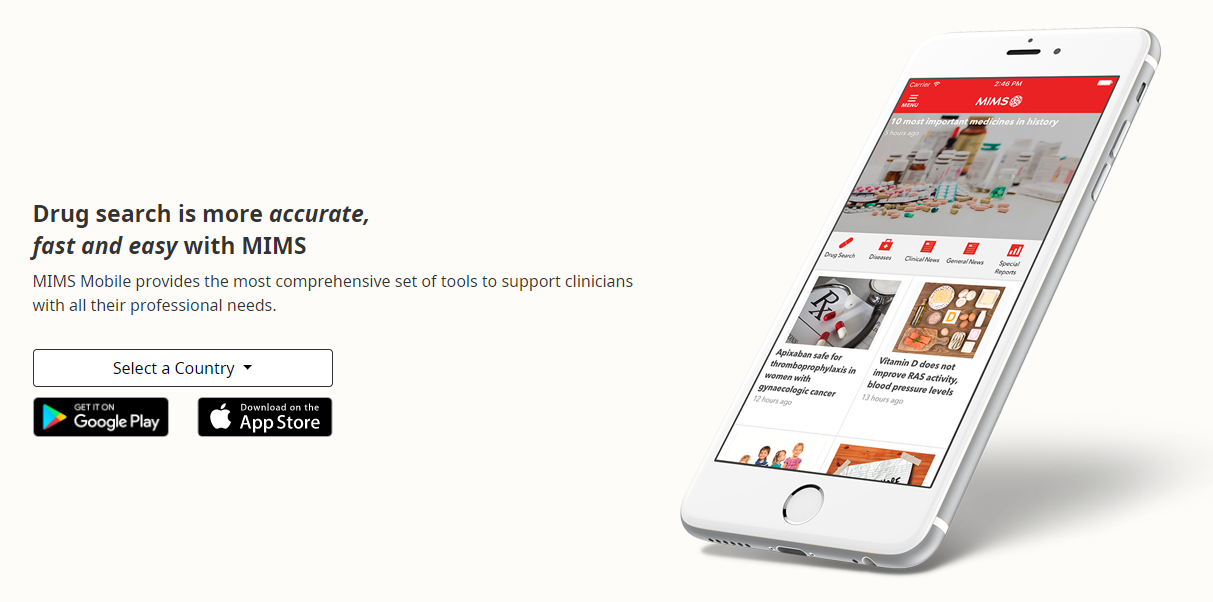 To allow convenient access, MIMS developed the mobile application version of MIMS.com and released the application available for download by public on Google Playstore and Apple Store.
Launch of MIMS.com
MIMS.com was enhanced and relaunched to allow registrations of HCPs onto our platform for easy access to drug information, medical news and updates.
Development and Launch of Clinical Decision Support Modules
Modules leveraged on the robust MIMS database and sophisticated drug interaction algorithms to enable MIMS to empower HCPs and Healthcare Institutions with accurate prescriptions, enhancing patient safety.
Launch of Publications: MIMS JPOG and MIMS Doctor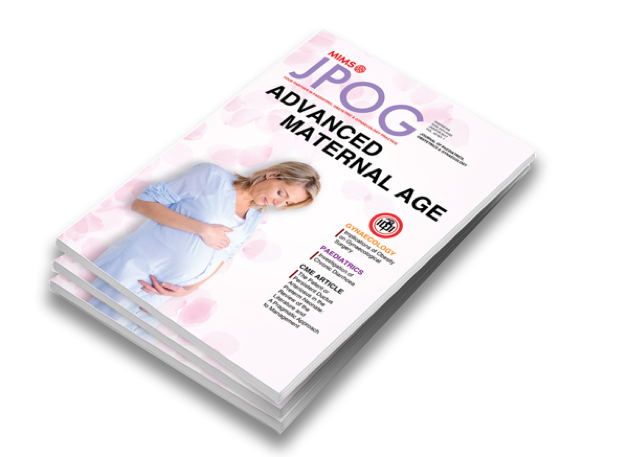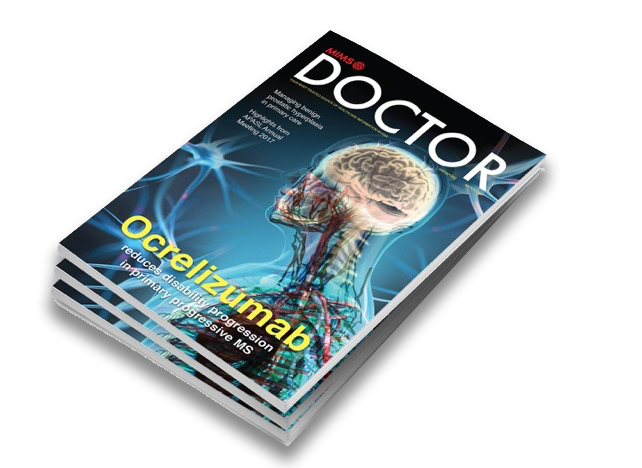 Launch of MIMS Drug Reference Book
The 1st edition of Drug Index for Malaysia & Singapore (DIMS) was published in 1968.
MIMS Australia has been publishing medicines information since 1963. The acronym, MIMS, was derived from the original publication which was called Monthly Index of Medical Specialties.
The MIMS Drug Reference Book was subsequently published across Southeast Asia – Philippines, Hong Kong, Indonesia, Thailand, Korea, Taiwan, Vietnam, China and India.