Why a niche pharma publisher is getting business from BMW?
As revenue from blockbuster drugs dries up, brands and media in the pharma space have had to adjust. Sherlynn Tan of Singapore-based MIMS explains what one media owner has done.
FWD was one of the first non-medical clients for MIMS
Blockbuster drugs such as Lipitor, Cozaar, Crestor, among others, used to enable big-name pharmaceutical companies marketing rights and exclusivity in producing those drugs under long-term patents. In some cases, a drug could pull in more than US$1 billion a year.
But the glory days are gone, according to Sherlynn Tan, chief marketing officer of MIMS Pte Ltd, a provider of drug information and medical communications headquartered in Singapore.
Branded drugs hold patents for 10 or 15 years, but after those patents expire, competitors can swoop in to create generic equivalents and undercut the prices of the incumbent companies by as much as 65%. For niche therapies, like for specific cancers, patient pools are much smaller. As they face thinning margins, pharma companies look to spend their marketing money in a wiser way, while the old, and expensive, ways of marketing to doctors via sales representatives and 'educational' seminars slowly fade.
Tan (pictured below), in this edited Q&A, speaks with Campaign Asia-Pacific about the state of the pharma-marketing industry. Note: Tan works for MIMS (Master Index of Medical Specialities), which is owned by SMS and Mitsui. This is no relation to the MIMS (Monthly Index of Medical Specialities), which is owned by Campaign publisher Haymarket.
What exactly is MIMS?
When it comes to pharmaceutical products, there are three main classifications of drugs according to dispensing channels: the prescription types, the pharmacist types, the over-the-counter types. Outside of the US, where direct-to-consumer marketing is allowed, pharma brands have no choice but to go to medical media platforms, such as MIMS, to promote their drugs to physicians. We serve this niche audience for their daily clinical workflow.
History-wise, we started as a prescription directory, and then along the way, we started producing magazines with general medical information. But we notice doctors are increasingly going online for such information. They are the most engaged among all healthcare professionals (HCPs in industry jargon), given that they are in the front line of prescribing medicine, followed by pharmacists (dispensing), medical students (learning), and then nurses (administrating). In Singapore, for example, the most active time local doctors go online are from 9 am to 12 pm, and then 2 pm to 5 pm. If you map that period with clinic opening hours, it makes sense, as lunch time is from 12 pm to 2 pm.
The digitalisation of the original directory and magazine started around 2009 as a pet project between myself and my IT and editorial colleagues. We wanted to transfer all the drug information online and create a one-stop search engine for Asia-based healthcare professionals. It was quite a bootstrapping time with no management support since there was very little digital revenue at that time for the pharma marketing industry. I would say that doctors are not directly influenced by the information that's put out on our platform. The pharma industry is very tightly regulated. You can't make a superlative claim, so pharma marketing is still very evidence-based. It's up to the doctors to read the drug details and prescribe to their patients accordingly.
What changes have you observed in terms of how healthcare brands are advertising on your platform?
Here's an example. We had an infant-formula client who used to target paediatricians—and that made sense—but most mothers bring their kids to GPs and family doctors instead of paediatricians. Unfortunately, GPs form the bulk of the doctor population in each country, and reaching them via the old-fashioned way of sales reps is simply not cost effective. MIMS' various platforms come into play here as we worked with the client on a lead generation campaign. If GPs show interest online, they fill in their information to receive sample packs of the infant formula. And then the sales reps follow up.
Why are doctors suddenly seeing BMW, Esplanade, FWD Insurance ads appearing in the MIMS prescription directory since late last year?
Today, we had grown our database to over 2 million medical professionals who contribute 15 million page views every month. The doctors value the drug information as something essential to their clinical workflow. When we saw the numbers growing, we thought 'let's monetise this'. We have always been targeting doctors for the purposes of medical marketing, but think about it, these doctors are individuals of high socioeconomic status. There are other companies, such as luxury brands, that want to market to these individuals on a more personal basis.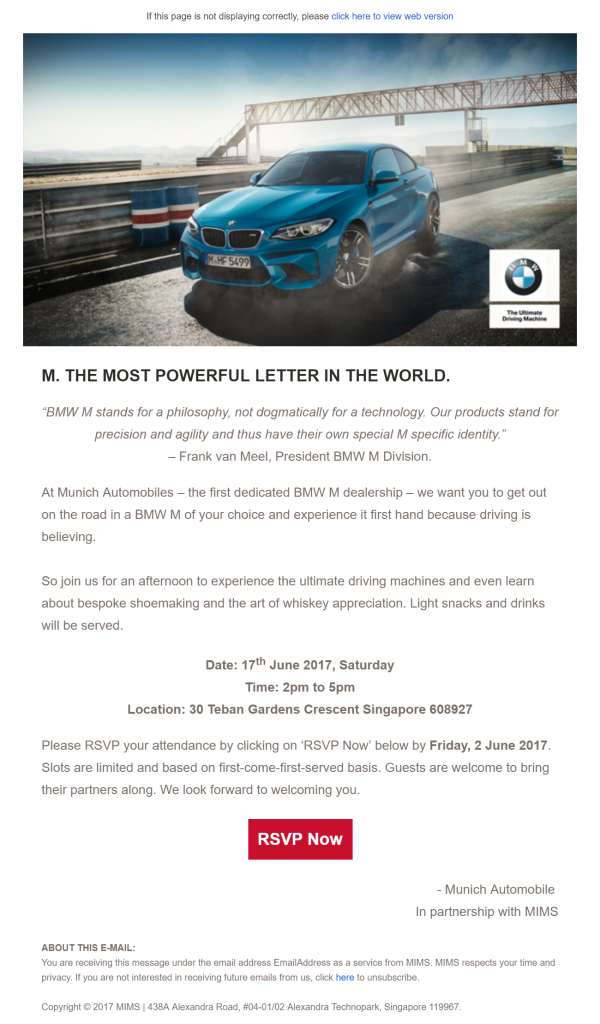 BMW set up an exclusive test-drive for doctors registered on our platform. They were expecting 30 respondents, but 80 signed up and 50 showed up. They were very happy with us.
Will this dilute the value of the platform? After all, it's a drug reference and specialist prescription publication.
Good question. We encountered that internal resistance among old-timers in the company. We are very careful with the mechanics of allowing the type of ad space and allocating the ad slots for the lifestyle advertisers. We don't want the ads to impede the process of getting drug information quickly, so there are no unskippable ads that need force-closing. We place the ad banners on non-intrusive spots only on our homepage. After all, our mission is still "empowering healthcare communities to improve patient outcomes", and we must stay true to that.
See original article: https://www.campaignasia.com/article/why-a-niche-pharma-publisher-is-getting-business-from-bmw/444020